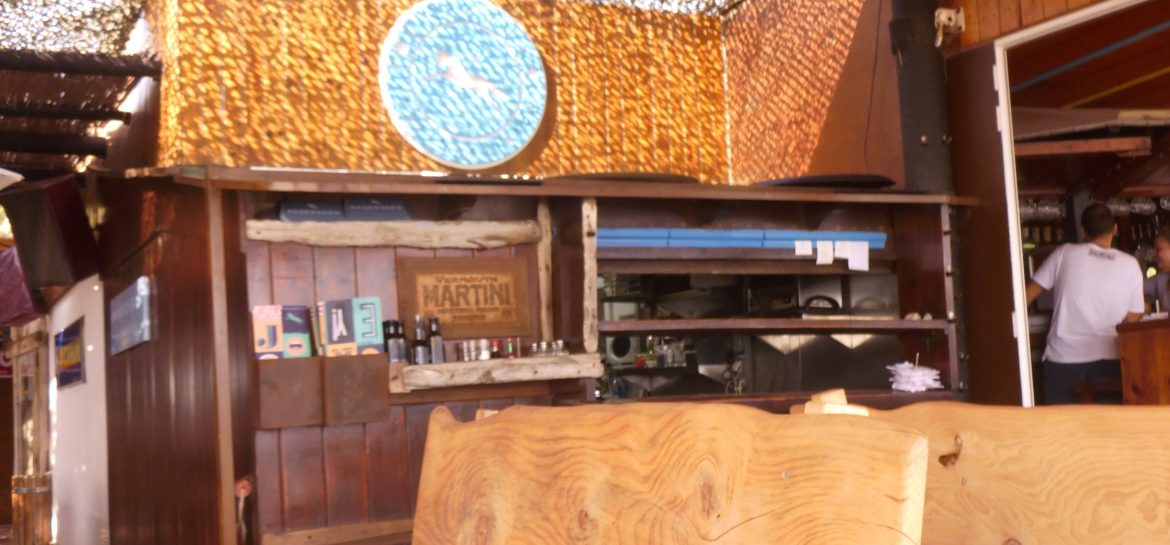 We are regularly at the beach of Ses Salines, but have never been to one of the beach clubs that are located there. There is the Malibu Beach Club, then the Jockey Club and the oldest is the Hippie Shed, a shed in which the Weed Smoke wafts like in the Luniz "5 on it" video from the Lowrider.
The Jockey Club is located in the middle and can be easily reached from both car parks via the jetty, where you get out at the lifeguard tower. At Ses Salines there is a slightly rocky section at the entrance to the water. The Jockey Club looks quite idyllic for a beach restaurant with lots of oiled wood for table and chairs (with leather seat cushion)
A few days ago I had already studied the menu and actually found it quite appealing. I don't know if there are different menues for different restaurant zones or working days – but somehow I remembered them differently. Since we didn't make any sandwiches yesterday, we decided to have something to eat there. Unfortunately it was getting later and later so that I entered the Jockey Club really hungry. When I had a look at the menu, nothing really turned me on, although there were many fancy hip creations, like ceviche (cold fish), something with quinoa and all kinds of other superfood stuff. I didn't like it so fast now and decided for a pizza, which turned out to be a good choice afterwards. First: Elsewhere one would have received 2 pizzas for it, but the audience here is used to the prices and the level is the same at almost all beach clubs between 20-30€, sometimes 40,- or more, depending on the dish.
We ordered 2 different pizzas and shared them, the "Don Julio" with tuna and onions and the "La Roja" with Jamon, rucola and Parmesan. Both taste really great, although the incredible 24,-€ for the last mentioned pizza was not due to the size. For the kids there were three choices, pasta with tomato sauce, chicken nuggets with chips and fish & chips. All three are at 11, – € (for Beach Club level quite OK…), but also not excessively large. I don't know if the noodles tasted good – at first my daughter was very enthusiastic "I've eaten something like this before " but then afterwards she nibbles up some of my wife's leftovers from the Pizza. Coke and Sprite from cans for 4,-€ (with glass, ice cubes and lemon) – well – there were plastic bottles in the restaurant somewhere else, no go.
Well, for almost 90,-€ it is quite a lot, but that's the way it is at Ibiza's Beach Clubs and the pizza was really good. At times we will certainly try more extravagant dishes from the menu, but all in all the Jockey Club is always well visited and has existed for 25 years.