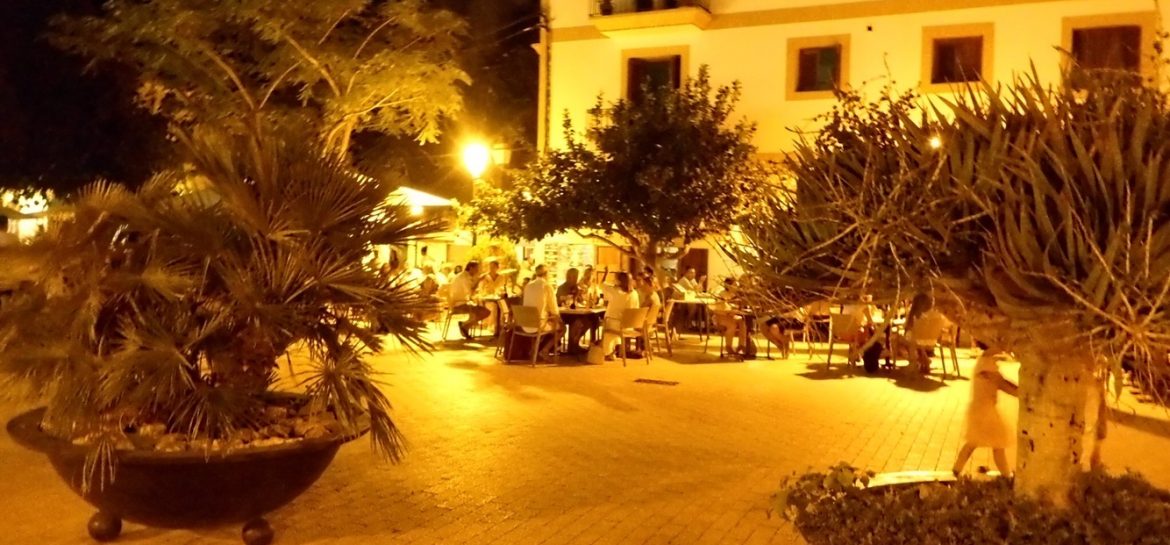 Santa Gertrudis is a pretty little place in the middle of Ibiza. Also beautiful by day, but in the evening after a visit to the beach at Ses Salines and a short stopover in Ibiza town we drove over there. You can easily reach Santa Gertrudis from Ibiza town by following the E-10 ring road east, past the port and IKEA. Follow the signs for Santa Eularia, then Santa Gertrudis is signposted at the last roundabout. Actually you will be there in a few minutes, but yesterday there was unfortunately a little traffic jam.
Santa Gertrudis is quite clear and consists actually only of a few streets, whereby the core constitutes actually perhaps 3-4 streets and the central place at the church.
Opposite the playground is the nice little restaurant / bistro / café "Musset", where you can make great coffee cakes, as well as eat a nice snack in the evening. The burgers with the homemade fries are great, as are the homemade ravioli. For the little ones we have Fried Chicken Fingers. Everything is very tasty, the rest of the menu sounds good and certainly tastes good too.
You can sit outside, but it is also worth taking a look inside the restaurant: under the glass floor there is a fantasy landscape of clay sculptures, which is very reminiscent of underwater snorkeling.
The "Musset" is located in the lovingly restored Hotel "Gatzara", looks very beautiful from the outside and from the entrance area. Prices and rooms not checked yet.
In the same street there are some cute shops with clothes, perfumes and room scents. If you walk up the slight gradient you will find the "es Cucons" at the top of the corner where you will find chic interiors, clothes and shoes and also an extra room with children's toys from and comparable to Djeco.
Passing the "es Cucons" on the left, you come to the central square " Carrer de la venda des poble " where the church " Esglesia de la Santa Gertrudis " is also located. On the corner opposite the church is the "Bar Ulivans" and 2 houses away the "Bar Can Costa" which can be found in almost every travel guide on Santa Gertrudis. If you follow the street, there are still a handful of shops on the left and right, e.g. a Ushuaia shop and another shop, which partly sells very nice decoration articles and lamps.
But you can also go down the next street at the church with one or two restaurants, wine bars and a gallery – but that was essentially it. Conclusion: Precious little diamond…