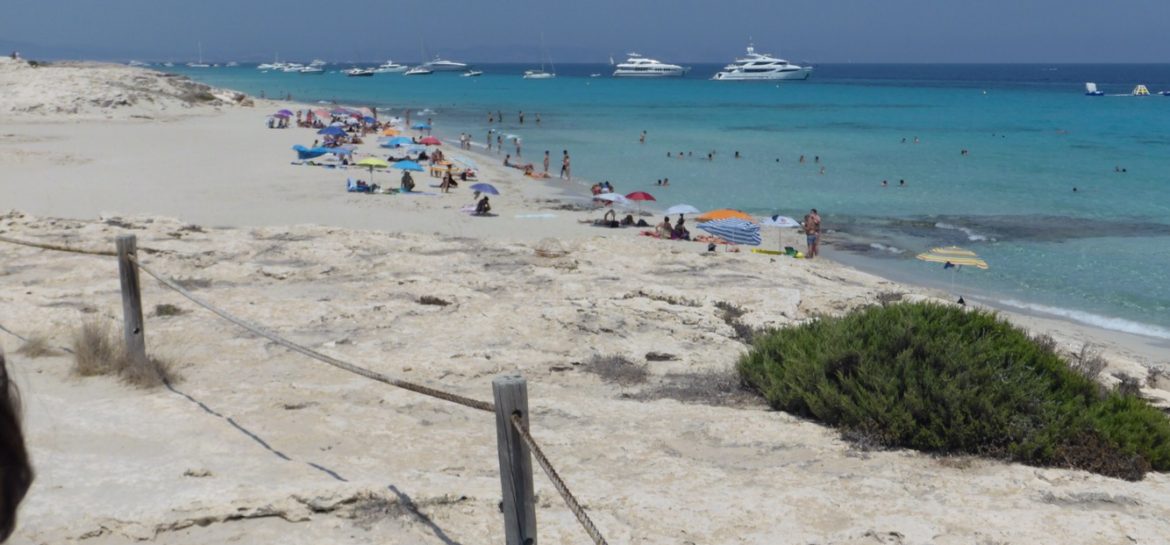 The last years we have mostly cancelled the day trip to Formentera, because it's organizational with getting up early, making rental cars clear and connected to the boat trip. This year we treat ourselves to Formentera and a Citroën Mehari. How we came up with the idea is a good question and first of all: If you have no experience with this piece of automotive history, you should keep your hands off it. The thing drives like a tractor, comfort, safety and electronics – no indication, the clutch only knows on or off, without grinding point… Nevertheless an experience
Our Formentera tour is much shorter than planned, so that we actually only made the direct way from the rental shop to Ses Iletes on the dirt road once around the saltworks. The Mehari rides better on moguls like this. I think that's what it was designed for. No paved roads, little traffic, sea air and sun – that's how it works. After all, the car is almost completely made of plastic like a surf board or motorboat, so it doesn't rust either. But on a paved road you don't really feel comfortable with a box like this, with all the thick, fast modern cars around it.
Since Ses Iletes is generally quite well visited, the parking lot was already full. First 20min waiting to pay, then another 20min wait and search a parking lot – fortunately the parking space was big enough for Mehari beginners. So if you didn't have your first driving lessons on such a goat and see it transfigured out of pure nostalgia, if you don't have any idea of a Renault R4 stubborn gear shift – just keep your hands off the Mehari – a real donkey, but adorable
We walked from the back parking lot to the beach Levante, which is a bit rougher, but not so full and with wonderful crystal clear turquoise water. After about 2 hours of bathing fun the hunger came up and we went to the restaurant "Es Ministre" located between both beaches. Actually, it's a large wooden hut, there are architecturally more appealing ones. Could have been on Sylt in this way, however, has a good, expensive menu and a large audience, some of them from the yachts at anchor.
At the "Es Ministre" we ordered grilled monkfish and grilled Calamaris and for the kids spaghetti bolognese and fried chicken fingers. Everything is very good, but with drinks a 100-150€ is gone fast as a family.
Then for another round of swimming to Ses Iletes. Also very nice, but you have to say that Las Salinas can easily keep up, in my eyes even more beautiful.
As the day comes to an end, we packed our stuff and went back up on the Mehari and in a wild ride again through La Savina, because we really got lost.
All in all a beautiful little island, but also an expensive excursion
Ferry 150,-€
Mehari 90,-€
Delicious Lunch 140,-€
It is also possible for considerably less money, for example you can take a taxi boat instead of the transmapi ferry, a simple mobile rental car and lubricate yourself with baguettes.