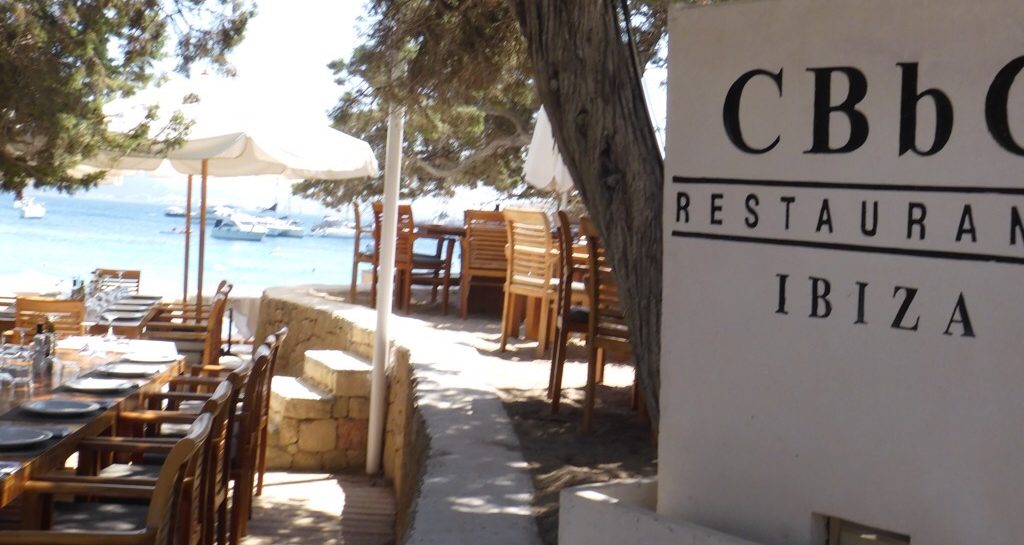 For me, the Cala Bassa Beach Club (CBbC) is the epitome of a beach club: I am thrilled every year by the picturesque complex amidst ancient twisted Phoenician juniper. If I built a beach club, it would look the same. The gastronomy extends over the whole length of the Cala Bassa, certainly 150m, without being obtrusive. Sometimes here a bar, sometimes here a shop, a restaurant under shady trees, sometimes a massage temple. Last year there was a cool 56 Chevy in the middle of it. Just a beautiful facility. Meanwhile we found the time to try the restaurant – excellent but – of course – expensive. This year we took a Paella with some kid's dish (Chicken fingers and some past), but I'm certain I will go for the Monkfish with Prawn Sauce next time
At the beach everything is crowded close together, but here it is not unpleasant at all, but just belongs to it somehow. Compared to last year, something has been rearranged: the "simple" loungers would be taken away, but there is now more room for people with towels. The beds are still there, you have to make them. Last year we had the pleasure of renting for 175,-€ incl. Pulle Taitinger, whereby of course "everything was reserved", but then one was free at some point. Instead of champagne you can also treat yourself to a "white sangria" (or the pink one?), whereby fruit pulp and fruit mix is then also infused with TaiTai, elegantly celebrated and at a cooler temperature in blue.
Tastes great, but pops in well at 30 degrees. But if you don't have to take care of kids and have someone driving you … a fine thing.
At the Cala Bassa you can see some celebrities again and again, whereby actually everyone is always in a super normal mood and just have a holiday.
Furthermore the Jet Ski rental has moved a little bit further and the registration / cash is now at the very end of the Cala Bassa at the top of the Nobel "Pommes Bude" and the crossing by motorboat also a little further outside, almost where the small ferry docks. The pleasure has also become a little more expensive, the hourly rate remains the same at 180,-€ but the smaller time units accordingly more: half an hour 100,- and 20min for 70,-€.
The parking lot is spacious and there is always a place to park. The price of 5,-€ even includes a Estrella (corona before), which you can pick up at the bar.