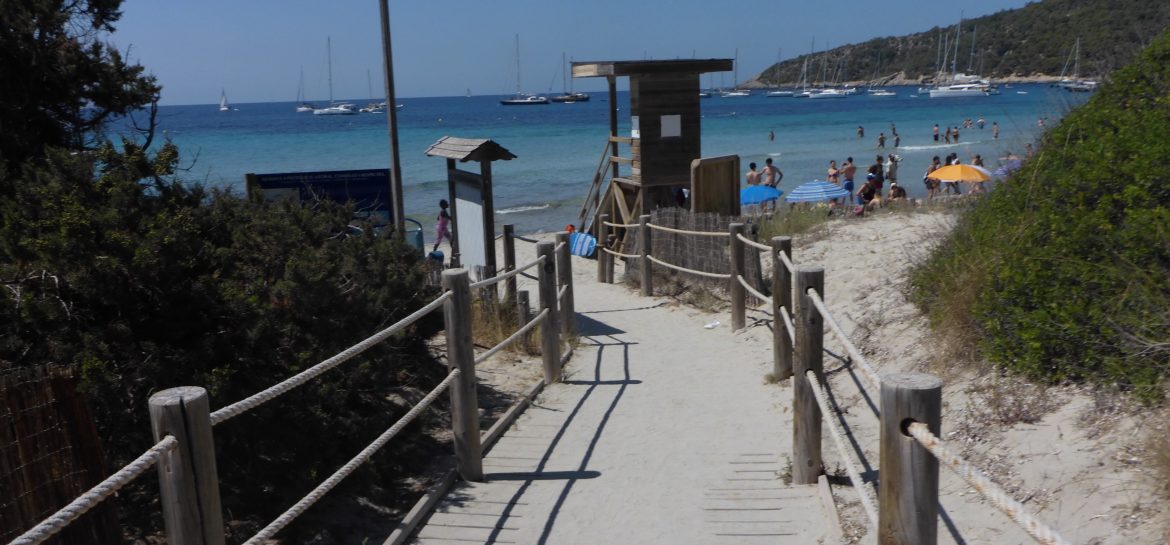 For families with children, the long sandy beach of Ses Salines is always suitable. The water at the beach of Ses Salines is mostly crystal clear, you can simply walk out into the knee-deep water and take a bath. If you like, you can actually swim or snorkel a little further outside. Visibility is almost always good, which is due to the somewhat coarser mussel sand, which quickly sinks back to the ground and does not cloud the view. However, there are much better places for snorkeling on Ibiza than Ses Salines, but the long sandy beach is always a bench. But Ses Salines is often quite crowded. Those who come by car will always find a free place in the large parking lot, which is picturesquely framed by pines and juniper trees, but currently costs 6,-€.
The way to the beach leads over various footbridges through the dunes covered with coniferous wood and often past one of the beach bars. In the midday heat you can sit in the shade, feed something or have a cool drink.
The menu e.g. in the Jockey Club offers a lot of variety and the price is still in the range, for a main course you pay about 20,-€ – we also have to try, usually we have something with us or buy a Tutti Frutti cup or a coconut from one of the flying traders – both 5,-€ each
Yesterday cocktails were mixed live on the beach again, quality probably fine, at least it went well… I didn't try it, though. To shoot a mojito with kiddies on the beach at 30 degrees doesn't have to be. But if you don't have to take care, you will certainly get your money's worth.
The beach owes its name Ses Salines to the salt fields (salt works) that you pass if you want to go to the beach. Here, seawater is evaporated on a large scale into increasingly shallow basins until only the fine "fleur de sel" remains and then the coarse sea salt, which is now available in many shops in Ibiza town or in the own "Sal de Ibiza" stores. New since last year are also the truffle chips in the turquoise bags, very tasty